Category Archives:
Home Building Ideas
---
Posted on November 13, 2014
U-nique (yoo-neek) Adj.
1. Being the only one of its kind. 2. Without an equal or equivalent, unparalleled. 3. Very Remarkable or unusual. 4. Used to say that something or someone is unlike anything or anyone else.
You are Unique! Your Spouse, your Children, your Personalities and Passions are all Unique!
But is the "Interior Design Theme" of your Home or Business Unique?
Does your home look like everyone else's home, similar colors, a little faux glaze painting here or there?
Are your Columns, Niches or Tray Ceilings begging for some drama?
What sets your home apart from others? What Interior Design Ideas will your friends want to Borrow or Steal to introduce in their… Home?
Where in your home do you have an area, that consistently gathers friends and family, generating comments of… Praise, Curiosity, Wonder and Questions?
Johnny Rzeznik, lead singer from the Goo Goo Dolls says: "We all, We all, We ought to start something New….. Keep The Car Running!"
(Scroll to bottom of this page to view the video and hear this great song, that inspired the theme of this months post! Also to view stunning project photos!)
If you are Tired of your Dated Colors, Old Faux Finishes and are ready to Explode some… New Ideas for Color, Texture & Effect in your Home or Business, then give us a call!
"Keep the Car Running… Let's Meet, Share some Ideas and introduce New Layers of Color, Texture & Effect in your Home!
Most Homeowners, don't realize that they have so many opportunities in their home or business to create… "The Wow Effect!"
Schedule an Hour out of your day, put the Coffee on, and Lets meet! We would love to hear your story, share ideas for Color, Texture and Effect, helping you Discover where those unique areas of opportunity are in your Home or Business.
Since 2005, Master Artisans – Mark Nordgren & David Nordgren of Bella Faux Finishes, have specialized in the historic application of imported Italian Venetian Plaster, the Italian Finishes, Decorative Finishes, New Faux Finishes and imported Art from Italy.
To learn more about the Bella Effect, you can read Testimonials from past projects or view our Before & After Gallery. You can reach David and I at Contact Us or Request a Quote.
Important – If your project is down the road, it is never too early to meet. Our Schedule can fill up fast, preventing us from coming to yours. So contact us way early, before you have even dug the hole, lets start the conversation…
Also Like Us on Facebook. Here is where you will have the opportunity to view most of our projects first!
So if you are interested in our Art, Like us on Facebook and you will be the First One to see our New Decorative Finishes on projects.
I think you will love what you see…
Bella Faux Finishes was featured on "Home Ideas TV" a few years ago. (I was also 40 lbs heavier back then, ugh) You will learn a little bit about imported Italian Venetian Plaster from Verona, Italy and the stunning Italian Finishes.
In this segment, David, Michael and I shared our Art in the home of "World Famous, Judy Shaw". Her Passion, Love and Ministry has touched the lives of so many people around the world…
What an Incredible Lady and Great Friend!
"Bella….?!?!"
It's funny on projects today, David and I are known and referred to as "Bella". We hear various questions and comments from Contractors, Owners, Interior Designers, Painters and Sub-Contractors ranging from:
"See if Bella can do this", "Ask Bella, what do they think", "You better talk to Bella about that one", "Bella will have a finish, talk to them", "Check with Bella", to my favorite comment of all… "Where the Hell is… Bella??"
"Keep the Car Running…"
David and I are always listening to our iPods on projects. I have been pounding this song in my head all Summer & Fall.
Johnny Rzeznik, lead singer of the Goo Goo Dolls says: "We all, We all, We ought to start something New….. Keep The Car Running!"
Never knew this band before, but I know them now, phenomenal band that Kathy & I saw in concert this Summer!
"Keep The Car Running" means don't be afraid to move on when you Need to make a…. New Change! Whether the change it is in your Personal Life, your Friends, your Health, your Weight or… the Interior Design or your Home!
I used the lyrics from this great Johnny Rzeznik song to inspire the theme of this months… "Bella Faux Finishes Blog – "Think Bella!".
---
Posted on May 13, 2013
(I am sharing two posts this month, the June Blog. We have a number of Fun Projects that will keep David and I busy with our Trowels for while and away from writing)
Wow, Your New Home Construction or Remodeling Project is Complete… Congratulations!
When you look back on your life, one of your Fondest Memories will be this experience of building your New Home. Every emotion is engaged during this process. You will Laugh, you will Cry, you will be Happy and you will be… Furious! But its all Good…You will Love it!
Every single New Home Construction Project and Remodeling Project, in Sioux Falls, SD, Sioux City, IA, Omaha, NE and Minneapolis, MN has a "Building Budget" that requires Contractors, Home Builders, Home Buyers and Home Owners to stay on target. Budget restraints can be seen in the Parade of Home and Home Shows around the country, where lesser materials or effects are used.
Almost every day, you will be asked to make difficult Interior Design decisions that will have you "Bumping your Head into the Home Building – Budget Limits". You will undoubtenly be forced to settle for Less, at times, to ensure your New Home is completed on schedule and on Budget.
Towards the end of the New Home Construction building process, you will find your Budget Very Tight… with little or no room to add on anything else.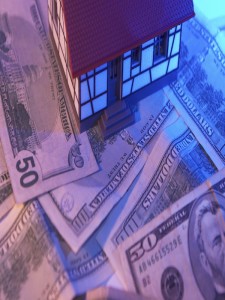 In our company, Bella Faux Finishes, we are usually the last ones to come to a project. As one of the few graduates of The School of Italian Plaster and various Schools around the country, our Speciality, Passion and Interior Design Goals are to create and introduce the "Perfect Final Layer of Effect".
But final building decisions regarding introducing a Decorative Finishes, Faux Finishes, Faux Painting and Wallpapering are often times cut.  Simply… because there is no budget left to bring in… Bella.
Sometimes a Contractor, to satisfy the Buyer's wishes, will have a painter apply a common, simple, low cost, sponge Faux Painting technique over the top of an existing texture, such as a Crow Foot, Knock Down or Orange Peel. Resulting in a… Less than Dramatic effect. You may see this in your home.
 "Now… Lets Jump a Year Ahead" – You and your spouse, will begin to notice things in your home, that you didn't think of when you were building.  You may have some… Wiring, Floor Plan and Interior Design regrets. This is very common.
The great thing about our Business, Bella Faux Finishes, is that we can bring our Art to a project at any time, Before or After. Today, Homeowners are looking for New Interior Design Ideas on how to create some drama and differentiate their home from others.
Below are some Common "Wow Effect" Areas that are usually CUT from the Building Budget. Visit our Gallery to view more examples.
(1) Columns, Base & Capital – They are often just painted white.  Bella Faux Finishes could add a stunning Italian Finish, Faux Painting or Italian Venetian Plaster Finish to them. Base and Capital could be changed from plain white to an aged patina effect.
(2) Tray Ceilings – Crows Feet Texture is often applied and then painted white or a darker paint color.  Bella Faux Finishes could float the ceiling smooth, then apply a breathtaking Italian Venetian Plaster finish, Italian Finish or Faux Finish.
(3) Niches – They are usually sprayed with an Orange Peel Texture and painted the same color as the walls, Bella Faux Finishes could create a unique Italian Finish, Italian Venetian Plaster, Faux Finish or Faux Painting, that would make your Niche a work of Art and home for a special memorabelia piece or picture.
(4) Accent Walls – These are usually sprayed with an Orange Peel Texture and painted the same color as on the walls.  Bella Faux Finishes could float the walls smooth, creating the perfect substrate for a stunning Faux Finish, Italian Finish, Italian Venetian Plaster or hang an impossible to describe Wallpaper.
There are so many areas in your new home, that have the potential for creating a "Wow"! Bookmark our website and go through our various Gallery's of finished projects. Don't miss the Before & After. Read our Testimonials to see comments from previous Homeowners, Contractors and Interior Designers.
You will know, when the time is right to explore new ideas for your home. Just give us a call when you are ready to "Wow" your home. We are working on New Decorative Finishes all the time. You will be surprised at how affordable our Art is. We offer the highest level of Decorative Finishes.
Don't Forget to "Bookmark"  our Website! Then, you can easily find us down the road again. When you are ready to "Wow" your home, David and I will be ready to present you with New Ideas for Color, Texture & Effect.
"Think Bella for your next Project! Beautiful Painting… Breathtaking Finishes!"
Also, follow us on Facebook, where many of our projects are shared first.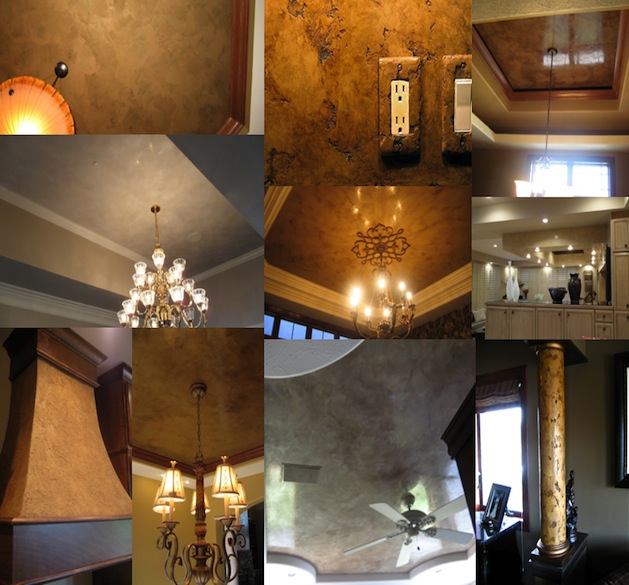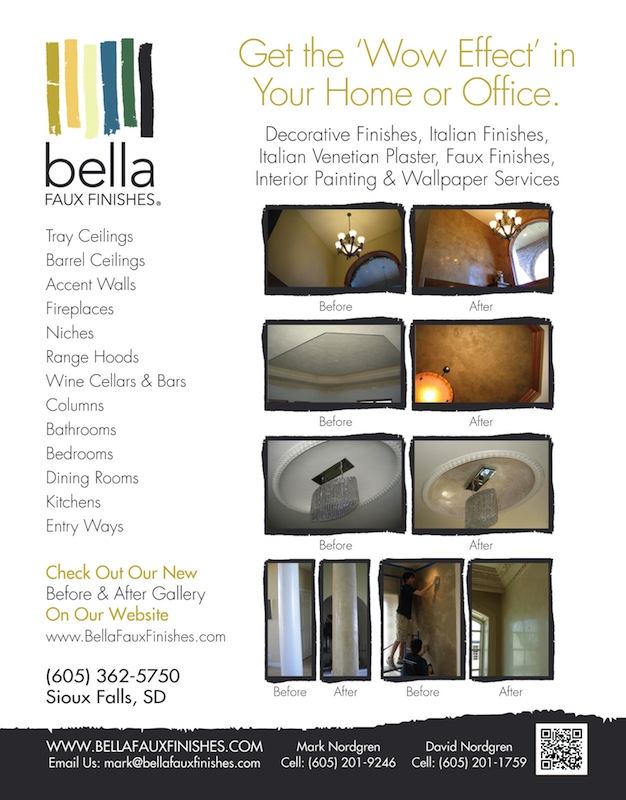 ---
Posted on August 27, 2012
There are 7 Home Building Mistakes that consistently prevent most projects from creating "The Wow Effect". If you are just beginning a New Project, take a moment to review these 7 mistakes. There is a formula and mindset you can use that can help to ensure that your project will include all of the elements needed to Wow. Bella Faux Finishes specializes in unique texture and effects from around the world. We specialize in Italian Venetian plaster, Venetian Plaster, Faux Finishes, Italian Finishes and breathtaking textures from around the world. The key element in creating drama is to "Interrupt the Senses with Texture". Follow us for New Ideas and Dramatic Finishes:
Website: https://www.bellafauxfinishes.com
Also, follow us on Facebook, where many of our projects are shared first.
---