'The World's Best Decorative Finish'…   is imported from Italy!
Have you exhausted Google and other search engine sites looking for new home remodeling or home decorating ideas? Maybe you should considered introducing a unique color, texture or Decorative Finish into your Sioux Falls, South Dakota home or business…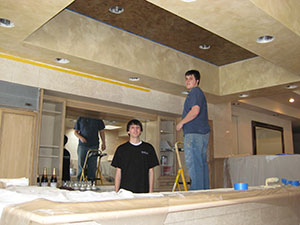 At Bella Faux Finishes, our Midwest artisans have mastered the historic application of Italian Venetian Plaster and Venetian Plaster. We are trained on the most intricate decorative finishing techniques and have a large portfolio of sample boards in various colors and textures to share with Sioux Falls Interior Designers, Architects, Home Builders and Homeowners.
Call one of our esteemed customer service representatives to view samples boards of  Italian Venetian Plaster  and Venetian Plaster. Pick your favorites and keep them for few days, to test for effect on your project.
Achieve the 'Wow Effect' in Sioux Falls, SD
Venetian plaster is a stunning creative element that doesn't switch up the aesthetics of your home or business — but adds to it. Our Sioux Falls, SD Artisans have the knowledge and experience needed to offer you the full effect of the decorative finishing technique without compromising the creative integrity of your property.
Even when applied to a small area, the Venetian plaster technique can help you achieve the"wow effect" throughout. Just see what it did for the homes and businesses featured in pictures on this page…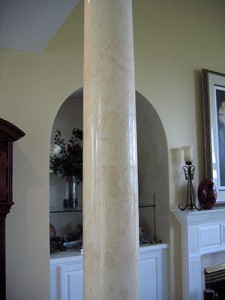 We know what you're thinking: Sure it looks good, but how much is it going to cost me? At Bella Faux, we believe in offering our customers the highest quality product at the best possible value. All of our Decorative Finishes, Italian Venetian Plaster, Italian Finishes and Faux Finishes are priced by the square foot. Therefore, if you choose a small area (such as an accent wall, ceiling or niche) the cost will likely be much less substantial than what you would have to pay for a wall mural or something a bit more expansive.
The History of Venetian Plaster
Of all decorative finishes used over the last 2000 years, there is only one that has withstood the test of time.
Architects, historic restoration experts and interior designers agree: For premier decorative finishes, Italian Venetian plaster is a cut above the rest. When presented with a unique project, there is no other finish that is both timeless and compatible with every interior design element imaginable.
Italian Venetian Plaster has consistently delivered a higher level of beauty and dramatic charm to homes. But it's not all show — it's the subtle and understated qualities involving the technique that makes the biggest difference.
Venetian Plaster Application Process
Venetian plaster should be applied using smooth, fluid motions. While many artisans and interior designers seem to have misunderstood the historic intent, our Sioux Falls Plaster Artisans understand that  Italian Venetian plaster is designed to complement all other aspects of a room. The effect is subtle creating a new element of effect that will pull all of the other colors and textures in the room together.
The application of the lime plaster finish should be smooth, with no trowel marks. When it sets, it should look and feel like real marble.
Enhance Your Midwest Aesthetics with Bella!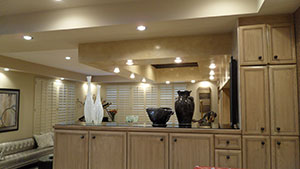 The first time you see a room finished with Italian Venetian Plaster, you will be amazed at how much better it makes everything look. From paint colors and drapery, to carpet, fabrics, furniture, millwork and more — our Venetian plaster technique is guaranteed to improve the overall aesthetics of your Sioux Falls or greater Midwest home or business!
At Bella Faux Finishes, we choose to work with only the best Venetian plaster companies in the world. We also choose to ship the majority of our plasters in from Italy or England because of the technique they use to derive marble flour rich in content from an aged grasselo.
Contact us for additional information about our decorative finishes and experience for yourself the difference of Bella Faux Finishes! See our photo gallery for examples of our interior design projects.
In addition to Sioux Falls, Bella Faux Finishes offers its services to homeowners and business owners in Sioux City, IA, Dakota Dunes, Wynstone Estates, Lake Okoboji, Lake Madison, Omaha, NE, Minneapolis, MN, St. Paul, Minnesota, La Crosse, Wisconsin and the greater Midwest.